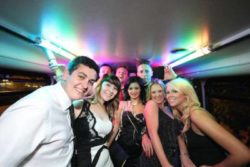 Whether it be a Sweet 16th, a 21st Birthday Party, or the big 4 0, Hire Your Transport can provide you with transport for birthday parties of all sorts. Hire a coach or bus for your birthday party, and be driven to wherever you want to be, in comfort and style, by a professional driver.
Whether you are looking for a bus or coach to collect guests from one location, to take them to another, or you want to transport on hand to transport them between various locations, this is possible. What better way to ensure that everyone can enjoy themselves without the worry of driving or getting home, and know they will be transported back from the party safely. Many guests that at first might not have been able to go, will be free to attend knowing there is a birthday party bus laid on.
Birthday Party Buses in London
You can hire our first class double decker buses and luxury coaches for taking adult guests and teens to a birthday party, however, we are also a great choice for children's day time birthday parties at sports centers, paint balling, adventure parks, cinema complexes or bowling alleys. All our double decker buses and coaches are fitted with seat belts, toilet and drink facilities, and even a DVD player. This makes us an excellent choice for traveling any sort of distance, as well as ensuring that everyone has all the facilities for a comfortable ride.
Cheap Rental Bus for Kids / Children
If you want to make the bus journey to your birthday party a little different, you can hire an authentic vintage London Routemaster, which adds a novelty edge to a great day out. There are no seat belts on the Routemaster, however, they are still a safe and reliable option. Get in touch with us at Hire Your Transport to see how we can help you out with bus and coach hire for your birthday party transport.
Whether you are looking to transport company staff between locations, book a bus for a staff party, hire a coach for a company away day, or a corporate training event or meeting, then look no further than our affordable packages and impressive coaches serving Surrey and Greater London, and surrounding areas.