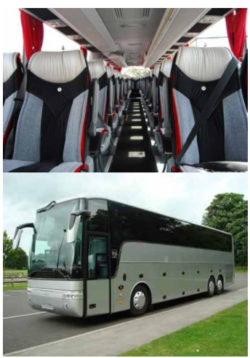 Corporate events can take many forms, be it a day away training, or an evening charity dinner, most companies will lay on transport for all staff. Whenever you are required to visit a specific location as a corporate group, then hiring a coach from our Surrey bus hire company is the ideal solution. At Hire Your Transport, we will take care of all your corporate event transport needs with a luxury coach from our Surrey bus hire company. We provide coaches for corporate events, as well as first class double decker buses, all of which are fitted with seat belts, air conditioning, drinks machines, DVD players and toilet facilities. We do our very best to accommodate all your corporate needs.
Charter Bus Hire London
Whether you are looking for our Surrey coach hire for your corporate events, as transportation to and from one place, or to fetch and carry people from various destinations as required, we are highly flexible in our corporate event services.
We have a range of transport options available depending on the size of your corporate group. From compact 16 seaters, right up to a 72 seater double decker bus. Our luxury coaches, the most common vehicle for corporate transport, come with the capacity to seat 49 or 53. Our coaches are in excellent condition, both inside and out, and provide both style and comfort. Your company will be well represented arriving in one of our coaches, which are all maintained to the highest standard.
Bus Hire for Corporate Events
All our Hire Your Transport drivers are experienced and ultimate professionals, while still providing a friendly and familiar service. Our customer service team are on hand to help you decide what transport option is best for you and also to answer any questions you may have, before, during or after your booking.
Whether you are looking to transport company staff between corporate event locations, book a bus for a training day, hire a charter coach for a company corporate party, or a corporate training event or meeting, then look no further than our impressive coaches serving Surrey, London, and surrounding areas.