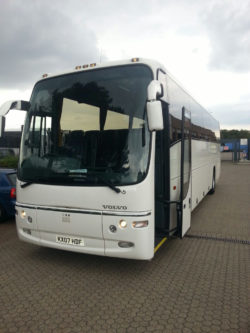 Hire Your Transport is conveniently located for Gatwick airport, as well as London Heathrow. As a Surrey based bus and coach hire company, we are frequently booked to both collect and drop off groups of people at Gatwick and Heathrow.
Whether you are looking to just be picked up and dropped off, or seeking the transport for your entire stay, we are the bus hire company for you. Many tourist groups arrive at Gatwick or Heathrow, requiring transportation to their hotel. However, with itinerary planned, coach services are usually required throughout their time here, and this is where we can be the one stop shop for coach and bus hire.
School Day Trip Bus London
We do airport runs for everyone from business executives (for which our small 16 seaters are popular) to tourists, sports teams, and groups of students. We will take care of all your transport needs, be it a luxury coach or double decker bus, from our Surrey bus hire company. We do our very best to accommodate every need of each unique group we cater to, providing you with first class transport.
Cheap School Buses to Hire
We have a range of bus options depending on the size of your group. From the smaller 16 seater buses, right up to a 72 seater double decker bus. Our luxury coaches come with the capacity to seat 49 or 53, and are maintained in excellent condition, both inside and out, always ready to provide both style and comfort.
If you are looking for a bus or coach to collect your group from Gatwick Airport or London Heathrow, then be sure to get in touch with us at Hire Your Transport. Similarly, if you are in need of an airport drop off service, hire one of our coaches or buses and we will take the hassle out of everything, leaving all passengers to relax ready for the trip.